Art deco jewellery has endured in popularity more than any other style of jewellery and to understand why, it is interesting to look at what the main features of it were. It was a stylistic period that ranged from 1920 to 1935 so it began not long after the second world war.  There was a move away from the flowing lines and floral motifs of the art nouveau era ( 1890 to 1920) to the art deco style which was dominated by geometric shape, symmetry and monochromatic colour. Contrasting colours were combined in unique ways, rings featured larger stones over smaller ones, plaque rings displayed divisions of patterning. The name Art Deco comes from the 1925 world fair held in Paris "Exposition Internationale des Arts Decoratifs et Industriels Modernes" where the new moderne style in Jewellery, decorative arts and furniture was highlighted.  
This was a period that saw innovation in diamond cutting. Triangles, tapered baguettes and rhombic shapes were favoured over more conventional shapes. These were set in white metal; white gold or platinum with old european cut diamonds. Bracelets were articulated with interlocking rectangular and circular shapes. A new type of setting was invented by the iconic design house Van Clef and Arpels called calibre setting. Calibre set gemstones interlinked together without metal dominating. The above ruby and diamond calibre-set ring is an example of this deisgn. Rubies, sapphires and emeralds bordered by pave set diamonds.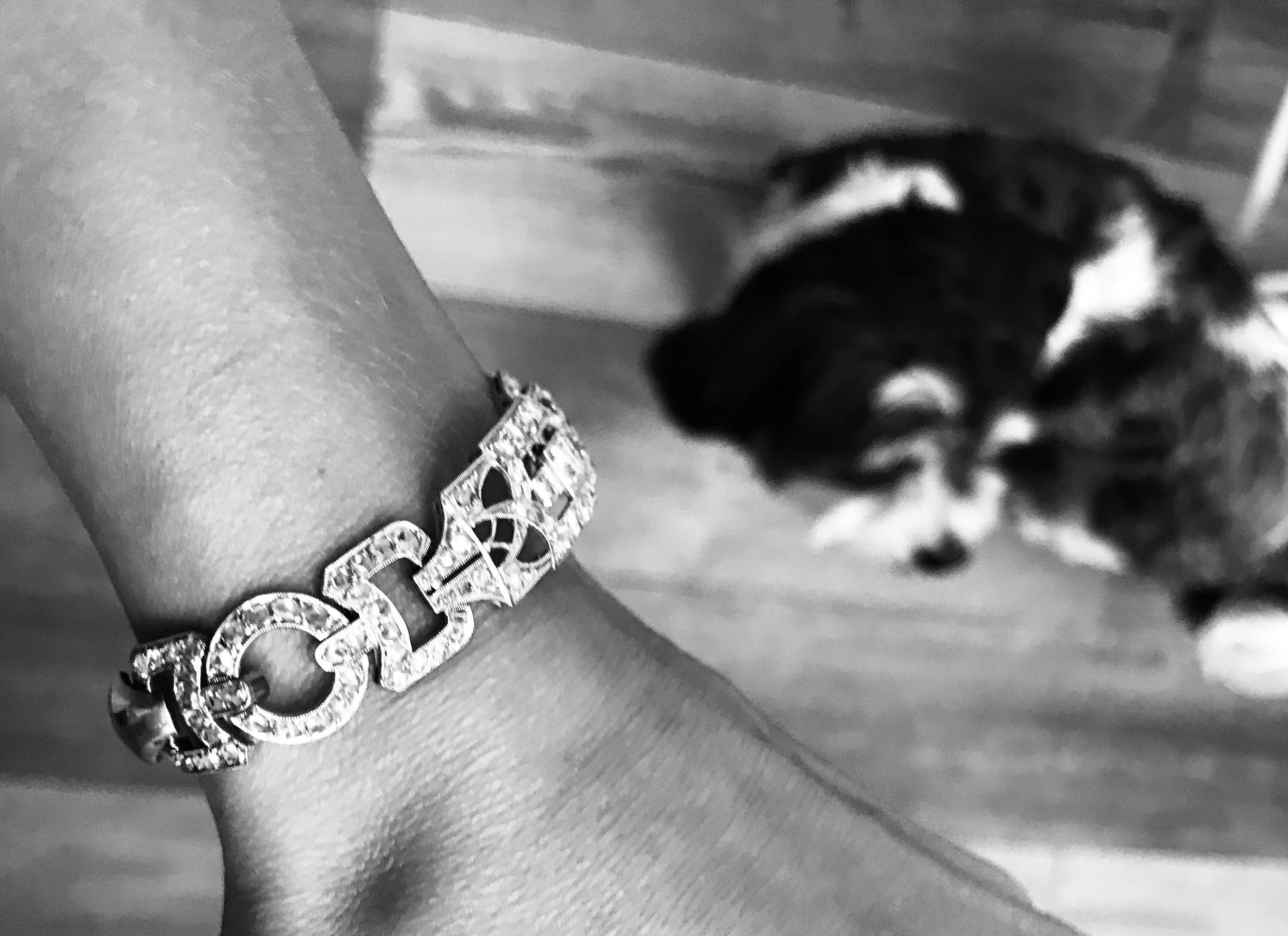 Stylistic influences came from Egypt, Persia and India. These were given 
different interpretations by the design houses of the period. Flowers, pagodas, temples, fruit baskets became popular motifs. Cartier's famous "Tutti Frutti" designs were indian inspired and employed indian carving techniques of sapphires, rubies and emeralds set in french platinum with diamonds. 
Another notable feature of the art deco period is that gemstones that had not been paired together previously were brought together in striking new designs. This gave jewellery designs a fresh new modern appearance. Onyx was set with emeralds, coral with onyx, rock crystal paired with lapis lazuli. They were carved or cut into cabachons. When we admire these pieces they continue to look moderne despite the fact that they are nearly 100 years old. Whether it is a genuine art deco piece or one that has been contemporarily made in the style of the era, it is the use of colour and  geometrically directed design  that brings us back again and again to the designs from the art deco period, not allowing us to fall out of love with it.